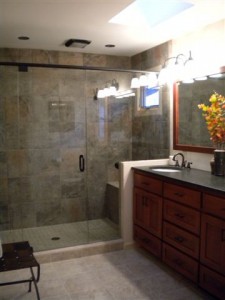 "We have been living in the North Georgia mountains for nearly 10 years and have finally found someone we can count on to renovate our mountain home. After many attempts, failures and disappointments, we had almost given up on timeliness, reliability, and quality, until we met Matthew Witt. He redesigned our challenging bathroom space into a first class beautiful room that includes detailed tile work, sky lights, custom made vanity, mirrors, and storage space. It rivals any bathroom room seen in a designer magazine!
After this positive experience, Matthew remodeled our kitchen, laundry space, and lighting issues throughout the home. Again, the same quality work and attention to detail abounds. There is no challenge or detail that escapes him, from the carpentry and the matching of stain colors, to the amount of additional lighting fixtures or electrical outlets needed. He thinks of everything!
Our kitchen is another dream come true, thanks to Matthew Witt. In addition to being so happy with the outcome of our remodeling projects, we are also so very grateful for the experience of working with Matthew Witt.
We were informed through every step of our remodeling process from the detailed initial costs to the time frames for completion. We were informed on a daily basis on the schedule of activities and movement toward the completion date. We were so impressed with Matthews ability to deliver ON TIME! He is amazing in his "can do" attitude, fortitude and dedication to quality. He is a true dream maker".
-Randi Lowry